The Minnesota Library Information Network-Place requests to have books, CDs, DVDs and more delivered to your local library. Use this website for items that are not found in the Viking Library Network. Each borrower may request 10 items at a time. Library card number and PIN are required.
ELM (Electronic Library for Minnesota) gives Minnesota residents online access to magazine, journal, newspaper, and encyclopedia articles, eBooks (online books), and other information resources. ELM provides information on a vast array of topics, including consumer information, arts and humanities, current events, health, science, social science, politics, business, and more.
READ LOCAL! Ebooks Minnesota is an online ebook collection for all Minnesotans. The collection covers a wide variety of subjects for readers of all ages, and features content from our state's independent publishers, including some of our best literature and nonfiction.Ebooks Minnesota is a joint project of Minitex and the Minnesota Department of Education, State Library Services. The collection was made possible in part by funding from the Minnesota Department of Education through a grant from the Institute of Museum and Library Services.
The Viking Library System subscription to OverDrive allows member library patrons to read/listen to thousands of ebooks and audiobooks on their own devices. Tablets, phones, and dedicated reading devices can all access the books on OverDrive. Check it out today!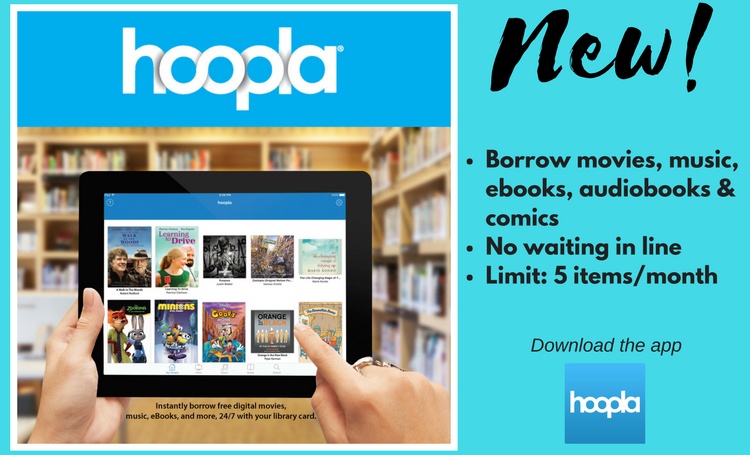 Hoopla is a digital media service offered by your local public library that allows you to borrow movies, music, audiobooks, ebooks, comics and TV shows to enjoy on your computer, tablet, or phone – and even your TV!

 The MyHeritage database includes birth, death and marriage records from 48 countries, the complete U.S. and U.K. censuses, immigration, military and tombstone records and more than 2 billion family tree profiles. Due to the ongoing content contributions by individual users, the database grows at an average pace of more than 1 million records each day.
MyHeritage Library Edition focuses on people-based records, which contain information about both everyday people and prominent individuals across societies and periods of time. This emphasis, plus the strength of the index, enables users to access information both about specialized topics (regions, time periods) as well as social, cultural, and political trends.
MyHeritage is available for in-library use at the following Viking Library System member libraries: Browns Valley; Douglas County; Elbow Lake, Morris, and Wheaton. It is also available online to any library cardholder in the Viking Library System area.
Created by The Church of Jesus Christ of Latter-day Saints, Family Search provides an online database of the millions of names in its International Genealogical Index, and of genealogical records.
MN Writes MN Reads is a project of Minnesota public libraries that connects local authors with local readers. Interested in getting your novel, memoir, poetry collection, or children's book into ebook and print-ready formats? Pressbooks is an easy-to-use, online tool that allows you to create professional-quality versions of your book in ePUB, MOBI, PDF, and more formats. Start your publishing project by creating an account in Pressbooks today!   Get started with our four step introduction, or view one of the many Pressbooks video tutorials online.
What's Next:   A service provided by Kent District Library that allows you to search for books in series